Essential Coaching Tools and Softball Equipment to WIN GAMES!
Softball Equipment-Coaching Tools
To be a successful fastpitch softball team, it's essential to have the right softball equipment and coaching tools to maximize your chances of winning. I understand some teams have bigger budgets than other teams, but the most valuable coaching tools are pretty inexpensive.
I've organized the essential and luxury items in order of "Biggest BANG for the Buck' to show you where I would spend my money first. Hopefully, this will help as you decide what tools you will need.
Click on the item below for my FULL REVIEW of the item, drills for each item, and pricing surveys.
Game Face — I'm surprised this isn't required softball equipment by all leagues as safety equipment. One day it will be. We will not allow a pitcher to pitch on our team without one. Safety is always first and foremost.
Stopwatch
— For Offense and Defense, if you acquire nothing else, GET A STOPWATCH.
Louisville Slugger Pitching Machine
— These are
about $170.00
and will revolutionize your batting practices. Would you like to
TRIPLE
the number of swings your team gets in a normal batting practice? Read this review.
Hitting Tee
- A Hitting Tee is fundamental for every team. The Baylor team spends hours every week hitting off the tee and I don't expect your players are better than NCAA Division 1 College fastpitch players.
- The ASA Fastpitch Hitting Fundamentals DVD by Mike Candrea coach of the USA National Team. It just doesn't get any better than this!
Practice Balls Review & Pricing Survey
— Always keeping safety foremost, it's important to use a practice ball best suited for the drill and your space confinements.
Magnetic Lineup Board — This is the best tool I have found for making out a line up and determining player positions during a game. A real time saver and mistake preventer. Click on the link to read the full review.
Fastpitch Bats Review
— This is almost a required piece of softball equipment. It will change the game for your players and team. This article covers the cost and benefit of bats.
Miken Fastpitch Bat
- A shopping survey of the 2007 Miken Bats including the Halo Light, Halo, NRG, and the 2006 Maniac.
Jugs Instant Screen Hitting Net and Jugs Instant Backstop
— Need to warm up your hitters prior to the game or need an extra batting station at practice? Jugs got this one right!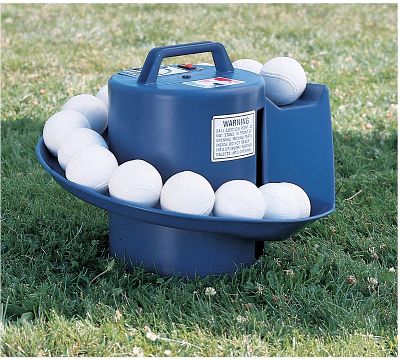 JUGS TOSS MACHINE - This is a great item for YOUR "Drills Based" practice. In combination with the Jugs hitting net (above) this is a great tool for practice at home without requiring a lot of Dad time.
TEAM Wheeled Equipment Bag Survey- A survey and review, including dimensions, cubic inches, and pricing of Team Equipment Bags, WITH WHEELS. Goodbye shoulder strap!
The Emask Batting Helmet Face Guard
- Works better, Looks better. Read the rest of the review by clicking on the link.
Softball Game Stats Software
— Knowledge is power. Knowing the real statistics for your pitchers, hitters, and fielders is eye opening and a very powerful coaching tool.
We are now into luxury and higher budget softball equipment.
Pitching Machine Review — Definitely a luxury item, but WOW! It's a great coaching tool for batting practice, but even BETTER for fielding practice. Click on the link to read my review of 5 pitching machines.
Tennis Ball Shooter
— Note that this is towards the top of my luxury items list. This is a powerful coaching tool. (Read more…)
Schutt Slide Rite Softball Sliding Mat
— How many of your players are afraid to slide or slide poorly? It's time to fix that problem!
DVDs and Books — Again, knowledge is power. Watch and Read what the experts say and see how they do it.
Spintight - spin trainer for Serious pitchers.
Batting Cages — The ultimate in luxury items, but certainly a great practice tool at your field or at home. (Read more…)
Artificial Turf — Well, if you are going to have a batting cage, what can I say? (Read more…)
E-Books
Power Hitting and Bat Speed e-book. Click Here!
Are you ready to add 20 or 30 feet to those hits?
Youth Speed Training E-Book for $14.99
Think about how many REALLY close plays are made at 1st base. Did you realize if you can shave just 2/10ths of a second off a girls time to 1st base, that will translate into 3-4 feet. Over the course of a season, how many more runs did you just score by turning that ground out into an infield hit?
Click Here! For Baseball Specific workout and conditioning progam.
Click Here! Athlete Recipes - Over 100 Recipes For Great Performance And Sport Endurance E-Book.
Now, Go Get 'em Coach!
This grill is the perfect travel grill. It's ideal for taking to your softball tournaments.
Best Selection, Best Prices, Best Service - Softball.com
---
Return from Softball Equipment to mysoftballcoach.com home page
---
Return From Softball Equipment to Offense Main Page
---