Batting Practice Anywhere with the Jugs Instant Screen
The Jugs Instant Screen is an indispensable softball coach's tool. Whether it's being more efficient at practice, getting in your batting warm ups before a game, or warming up before a tournament, this portable hitting net is ideal. The specs are 7' x 8' however it folds down to 2' x 3' so it can fit in the trunk of any car and it only weighs about 14 pounds. Set up time is about 2 minutes.
We use our Jugs instant screen all the time. In fact, we have two of them. They can be set up for hitting soft toss or for hitting off of a hitting tee. You probably think I'm a little over the top to have two hitting nets, but after seeing one team with FOUR nets I almost felt inadequate. This is just a great way to set up a hitting station in a small area.
If you don't have a Jugs hitting screen, how do you plan to warm up your hitters prior to a game? You warm up throwing and fielding so why wouldn't you warm up hitting? All things being equal, I wonder which team is going to perform better during the game? The team that didn't warm up their hitters, or the team that got each batter 20 swings right before game time.
Another nice tool is the Jugs Instant Backstop. I will confess that we don't have one of these since we just don't need it. The dimensions for it are 12' x 9' and it also folds down to 2' x 3' making it very portable. Depending on your practice field and available facilities, this may be a great tool for setting up an extra station. It may be the only backstop you have if you have to practice in an open field. It's also ideal for batting at home or for pitching practice at home.
For the Jugs Instant Screen Click the picture:
Softball.com
$129.99
Below is a short video to demonstrate how easily the hitting net can be folded up. Please watch, it's kind of entertaining (the maddog is mine)..
For the Jugs Instant Backstop Click on the picture: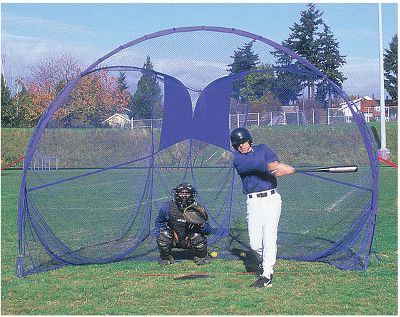 Softball.com
$199.99
Amazon
$198.47
If you aren't scoring enough runs, get your players to the game in plenty of time to take some batting practice. Have an assistant coach take a seat on a bucket and start tossing practice balls for soft toss hitting practice. The hits will come, so will the runs and so will the WINS!
Go Get 'em Coach!!!